IT operations management in the age of the hybrid workforce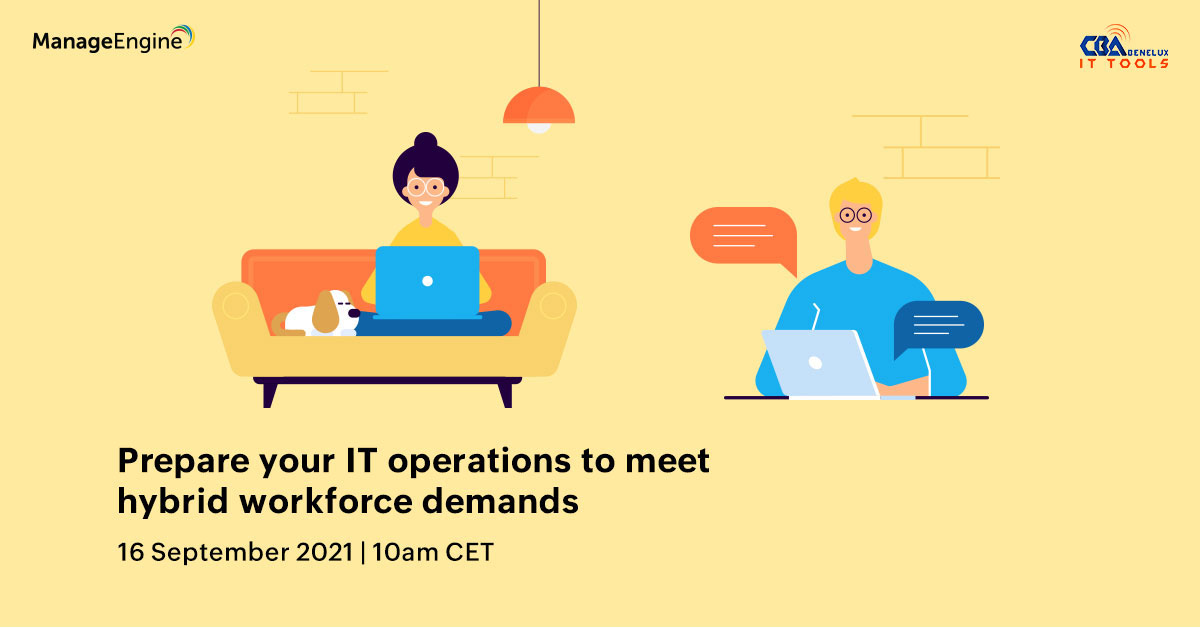 According to a TNO report, by the end of 2020 no less than 49% of employees were working from home or via a hybrid model. This trend will continue in the coming years. This has significant consequences for the organization of labour and the continuity of businesses. Therefore, CBA Benelux organizes a free webinar in which we shed light on this issue.
Nowadays, organizations worldwide have to deal with a situation in which employees work partially or entirely from home. This requires a lot of creativity and flexibility from all stakeholders. It is an unprecedented change in the way work is organized and provides many benefits, for both employees and the organization. Remote working will continue to exist alongside working at the office. This hybrid working is the new status quo.
Besides advantages, this hybrid model poses some challenges to the organization's IT infrastructure. We have summarized them in four R's:
Recover the impact Covid has had on productivity, connectivity and security.
Replace temporary measures and solutions with future-proof ones.
Re-model processes and strategies, as advised by IDC ('Branch of One architecture') and Gartner ('Anywhere Operations').
Recognizing areas where it is necessary to digitize or migrate to cloud solutions.
Ultimately, it's about:
How do you organize your IT management in this new status quo?
How do you provide the IT infrastructure to serve this remote workforce in a hybrid model?
Is there enough knowledge and tooling in the organization to guarantee continuity?
To answer these and other questions, we are organizing a webinar on 16 September 2021. The webinar will last 1 hour. Participation in this webinar is completely free of charge.
Why should you participate?
In this live webinar, our product specialists will present their views. We will ensure that at least the following points are covered:
The evolution of the hybrid workforce and the impact on IT.

What leading researchers and analysts are saying about hybrid IT trends.
Troubleshooting (potential) weaknesses in your network, server and application/database.
The importance of network security and compliance management
How to design a proactive multi-tenant network monitoring strategy for the hybrid workforce.
Introduction of technologies such as SD-WAN and Zero Trust.
During this interactive webinar, there will also be room for your questions, for example:
How do you prepare your organization if your colleagues / employees work in other locations?

Does your organization have enough knowledge and understanding of hybrid working?

What is the root cause of decreased performance?

How can you manage the risks of migrating to and implementing cloud solutions?
If you have any other specific questions you would like to raise, please feel free to contact us.
Sign up for this webinar here with the form on the right
When:
16 september 2021 - 10:00 am
Where:
Online
Event type:
webinars

Sign up ITOM - Hybrid workforce